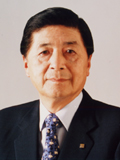 I most sincerely thank you once again for the warm support many of you extended abroad to the 22

nd

World Gas Conference which was successfully held in Tokyo in June of last year. Among others, I was very pleased that it was a good opportunity that a number of professional participants from different parts of the world enhanced their understanding on the progress and future possibilities of Japan's gas industry.


The Japan Gas Association would like to commence an e-mail magazine entitled "JGA Newsletter" so that you will be kept updated on our latest information and developments in a variety of fields. This first edition highlights some of the excellent R&D projects which have just been commended by the Association.


It is my sincerest wish that this magazine will promote our friendship and as well prove interesting, informative and beneficial to all of you. Your constructive comments will be always appreciated.


Kunio Anzai
Chairman
The Japan Gas Association